OK, so here it is - I am not a very organized person. Working for this big-international-tobacco-company (no... nobody knows, what am I talking about seeing their logo below my links) takes all of my free time, but - oh well - there are things that are important and those which are even more. Blog seems to me to be in the second category as a way to express my egoistic mind, which certainly is not being expressed at work. Plus, the theme changed a bit - hope you'll enjoy it.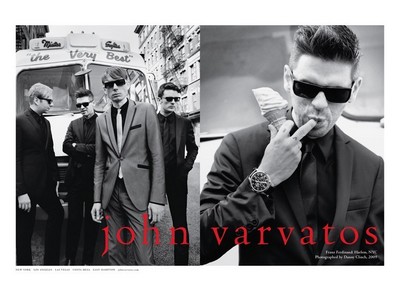 So Franz Ferdinand is a Scottish band of a pretty sharped, stylish image. Their new CD (coming out in a couple of days) is said to be "taken straight out from the end of the '70". But above that they are just four simply good looking, but a bit strange guys fascinated with Russian avant-garde. And then we've got Greek-born American John Varvatos, who's been working in the past for Ralph Lauren, Calvin Klein and - probably the best known collaboration of his - Converse. How could not a Converse guy make a perfect match with Russian avant-garde freaks?

So far there are only two pictures released for the SS o9 campaign. The were taken by Danny Clinch in Harlem and show the guys enjoying Mister Softee's ice cream (the scene reminds me of GTA Vice City - who's played, knows). According to Varvatos, Franz Ferdinand was "the perfect choice to express the sleeker, mod-inspired edge of my spring collection". Guess, it really was.