Versace goes summer-ish.

Short dresses, vivid colors and those wonderful prints! Totally adorable. Donatella again didn't go into anything original, but watching this collection was just... pleasurable:)




Dolce&Gabbana go shiny.

There is a little bit of everything in this collection - satin, oversized sequins, extra-wide shoulders, fur - everything screaming "look at me!". I really enjoyed the powerful woman look as well as the romantic dresses at the end.




Dsquared² go seventies.

Very sporty, very American. It will definitely find it's fans - but not me. Reminds me of old James Bond movies.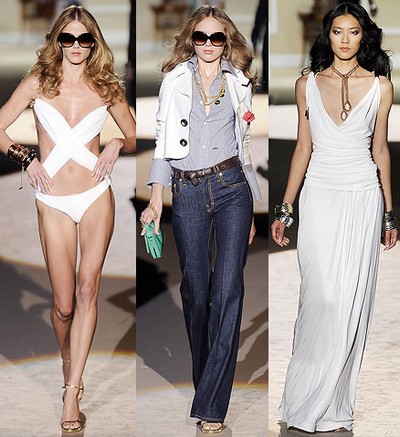 Pucci goes Pucci.

Williamson, enough.




Fendi goes simple.

Transparent materials, pale colors, geometrical shapes. Very "it" for this season. But... who the hell has designed the hairstyles? Don't match the clothes so badly.